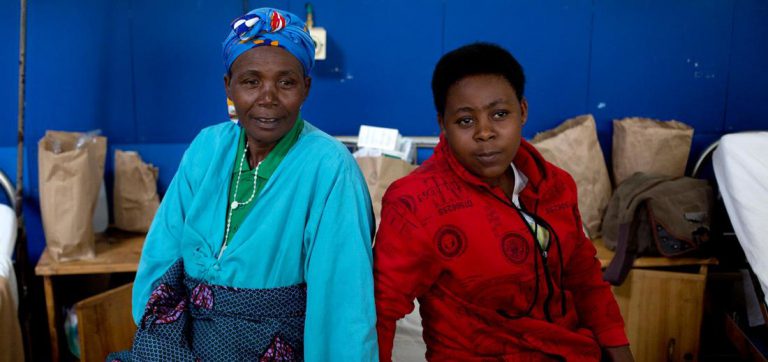 Vaccination, screening, treatment and palliative care are the key interventions of WHO's Draft Global Strategy towards the Elimination of Cervical Cancer as a Public Health Problem,
the fourth most common cancer in women.
On World Cancer Day, new estimates show that this strategy could save more than 62 million girls and women from a cervical cancer death and prevent 74 million cases within the next 100 years – but only if these interventions are used effectively
together.
No single intervention can eliminate cervical cancer
These estimates, published by the WHO Cervical Cancer Elimination Modelling Consortium (CCEMC) in The Lancet, are based on the draft strategy's targets to achieve a global coverage of 90% vaccination, 70% screening and 90% treatment by 2030.
---



Impact of HPV vaccination and cervical screening on cervical cancer elimination: a comparative modelling analysis in 78 low-income and lower-middle-income countries
Mortality impact of achieving WHO cervical cancer elimination targets: a comparative modelling analysis in 78 low-income and lower-middle-income countries
---

Developed by Member States, UN agencies and other partners, the draft global strategy seeks to redress the unequal burden of cervical cancer around the world. Nine in 10 cervical cancer deaths occur in low and lower-middle-income countries, where
women lack access to health services.

As Dr Tedros Adhanom Ghebreyesus, WHO's Director-General has said, "It doesn't have to be this way. Cervical cancer
is one of the most preventable and treatable forms of cancer, as long as it is detected early and managed effectively."
This new analysis compares the impact of vaccination, screening and treatment of cervical pre-cancer lesions as single or combined interventions. Focusing on 78 countries where cervical cancer mortality is highest, the results clearly show that no
single intervention will be sufficient to reduce levels of cervical cancer in the next 100 years to below the elimination target of 4 cases per 100,000 women per year.
Acting immediately on all three fronts is crucial.                                                                                       
90-70-90: a triple intervention by 2030 and beyond
Vaccinating girls against cancer-causing types of human papillomavirus (HPV) before the age of 15 is the foundation for bringing every country's incidence rate of cervical cancer down to the agreed elimination level.
Right now, however, vaccination is not enough. As a single strategy, vaccination targets would only deliver a 0.1% reduction in cervical cancer mortality by 2030. Scaling up screening and treatment of cervical pre-cancer lesions at the same time would
reduce mortality by more than one third, or 300,000 deaths, in the same period.
The evidence shows that when all adult women are screened for cervical cancer at least twice, at ages 35 and 45, abnormalities are more likely to be detected before they become cancerous. When cancer has developed, screening increases a women's
likelihood of early and successful treatment, as well as palliative care if recovery is no longer an option.
Meeting these triple-intervention targets would be a major contribution to target 3.4 of the UN Sustainable Development Goals (SDGs), a one-third reduction in premature mortality from non-communicable diseases by 2030.
The future of cervical cancer elimination
WHO's global strategy towards eliminating cervical cancer aims to set the world on the right track by 2030, but it is just the beginning.
At this pace, global elimination of cervical cancer is not predicted until 2120.
While high HPV vaccination coverage is the primary prevention intervention, ensuring every woman has two cervical screenings in her life would accelerate elimination by 11 – 31 years, depending on the country.
If no action is taken, cervical cancer deaths will rise almost 50% by 2030. Approval of the draft global strategy at the WHO World Health Assembly in 2020, and investment in mechanisms to deliver it, is vital.
As the new World Cancer Report shows, only 18% of countries that currently provide screening for cervical cancer reached the recommended target of more than 70% coverage. An estimated 55% of low-income countries that reported offering
cervical cancer screening generally lack accessible radiotherapy or surgery services.
Elimination of cervical cancer is possible within the lifetime of today's youngest girls, but the clock starts now and every intervention counts.

Read More
https://www.who.int/news-room/detail/04-02-2020-to-eliminate-cervical-cancer-in-the-next-100-years