ATTENTION: Entrepreneurs and business owners…
"Discover How to Convince Your Readers and Boost Your Conversions"
Imagine If You Could Learn How To Very Simply Write In A Way That Would Boost Your Conversions Overnight
Running any business is all about profit and sales and there's one simple way to make more of both.

Ensure that a higher percentage of those people who enter your shop or go onto your website, decide to actually purchase a product.

Well… Lets have a think.

Advertizing agencies get paid millions of dollars each year by business owners like you in order to create high converting copy that practically forces the reader to purchase the product.

Why not learn to do that yourself?

Copywriting

Copywriting is the art of creatively writing in such a way that you can stress the importance of the product to such a degree that the reader feels like they need to purchase it. It's been used for thousands of years to drive sales and it can make such a difference to whether a customer purchases through you or a competitor.

As An Entrepreneur, You Desire Success


Although the ability to write is one which we all like to think we have acquired, the reality is that most of us suck.

That's hard to take in, because we've all been doing it for decades and we like to believe that we've mastered everything there is to learn.

The reality is that I write better copy than you. What I write will sell better than what you write.

But you can learn. Just like I did.

I've been doing this for many, many years and I can tell you that I was really quite awful when I first started.

I made a lot of mistakes. I wasted a lot of time. I don't want you to have to go through all that stress and heart-ache if you needn't.
….which is why I put together a guide to share my tips to show you in the most efficient way how to write high-converting copy.
Introducing… Pro Copywriter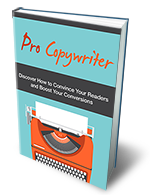 This guide will help you to put together all the pieces of the puzzle, it'll show you why one word or phrase is better than another and by the end you'll be writing FAR superior copy than at the start.
Here's what you'll discover in the Pro Copywriter guide:
What is takes to become a TRUE copywriter
Planning – How to plan your copy to prevent producing a mess
Effectiveness: What phrases and grammar work best?
How can you make small changes to your copy that deliver results?
Why is one piece of copy better than another?
What makes people ACTUALLY buy?
How to use 'power' phrases that force customers to purchase
How to write better copy than ANY of your competitors
…and much, much more!
How Can I Use This Powerful Guide Right Now?
You can own Pro Copywriter today for a mere 
That is a truly incredible value, especially considering the significant difference it'll make to your success.
This post was originally published on May 7, 2017.