Full Private Label Rights to Hot Product #4:




Cashing In BIG On The Health And Wellness Industry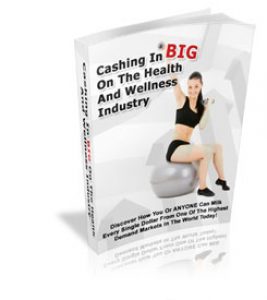 Discover How You Or ANYONE Can Milk Every Single Dollar From One Of The Highest Demand Markets In The World Today!
Content: 41 Pages, Full Private Label Rights
Description: Ever thought of making money in an industry with a HUGE market demand, UNPARALLELED growth potential and MASSIVE income possibilities?
How would you like to position yourself strategically and tap into one of the largest trends in the history of mankind? Look no further.Cashing In BIG On The Health And Wellness Industry reveals how the HEALTH and WELLNESS industry holds the key to any budding entrepreneur on how to cash in on this rising trend!
Table of Contents
Chapter 1: Who Are The Baby Boomers? 8
The Growth of an Unstoppable Market 8
When Did It Happen? 9
The Cultural Identity of a World Changing Generation 10
Chapter 2: What are the Baby Boomer Trends? 12
Unparalleled Economic Demand 12
Boomers Start and Destroy Markets 13
Keeping up with the Boomer's Trends 14
Chapter 3: Where are the Boomers Spending Their Money? 16
What Age are they in Now? 16
Where Would Their Main Priority Be? 17
Where Will They Start Looking For Solutions? 19
Chapter 4: Health and Wellness in the Network Marketing Industry 21
A Cost Effective Business Model 21
Feeding the Hunger 23
What Kind of Products are in the Market? 24
Chapter 5: Network Marketing Trends and Phases 27
Network Marketing Trends 27
POTS AND PANS 27
Nutritional Supplements 28
The Water Wave 29
The Age of Air 30
Chapter 6: Building Your Own Product Awareness 32
Positioning Yourself as an Information Expert 33
Building the Relationship with Your Customers 34
Chapter 7: How to Identify the Latest Trends and Cash In 36
Identifying Your Niche Market 36
Choosing the Right Company that Manufactures the Products 37
Be Very Clear Where You Are Heading 38
CONCLUSION 40
You Get The Full 'No Restriction' Private Label Rights To This E-Book In PDF Format, Word Document And Photoshop Source Document To The E-Cover!
PLR Terms & Conditions
[YES] Can put your name as the author.
[YES] Can edit the contents.
[YES] Can sell the product.
[YES] Can be used as a bonus.
[YES] Can add into a membership site.
[YES] Can be added into a bundle package.
[YES] Can sell with Resell Rights.
[YES] Can sell with Master Resell Rights.
[YES] Can sell with Private Label Rights.